Mark Akridge
P.O. Box 518 / 267 East Johnson St.
Hartwell, GA 30643
(706) 856-2740 FAX (706) 856-2792
Days and Hours of Operation
Monday – Friday
8:00am – 5:00pm

Financial Services
Temporary Assistance for Needy Families (TANF)
Cash Aid to Families With Dependent Children
Employment Services (Required for TANF Recipients)
Food Stamps
Medicaid
Limited Emergency and Seasonal Energy Assistance
Child Support Referral
Child Care
Social Services
Adoption and Adoption Assistance
Foster Care for Children
Child Protective Services
Parenting Information
Preventive Services
Referrals for Other Services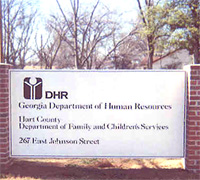 "Protecting kids. .helping families"



Office at 267 East Johnson St.
The Division of Family and Children Services (DFCS) is responsible for welfare and employment support, protecting children, foster care and other services to strengthen families.
Purpose: To be the community service agency of choice for Hart County residents.

Charges for Services: None
Go to Georgia Department Human Services
Go to Georgia Department of Family Children Services
DHS MIssion: To strengthen Georgia's families - supporting their self-sufficiency and heloing them protect their vulnerable children and adults by being a resource to their families, not a substitute.