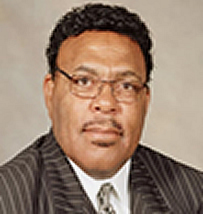 R. C. Oglesby is a family man, married to Aretha in 1972, with three children, Frederick L., Steven D., and Monique, four grandchildren and a godson, Atravious Craft.
Telephone: (706) 376-0037
Email: rcoglesby@yahoo.com

R. C. Oglesby has been working to build a better life for the residents of Hart County since he was first elected County Commisisoner in1989. He believes clean living, hard work, and respect are the key elements to successful living.
He has worked for Hart Telephone Company since 1972, working his way through the ranks to become Plant Manager in 1993. He is a Pastor for Antioch Baptist Church, and works with a nurturing group to help the downtrodden. R. C. also finds time in his busy schecule to work as a volunteer fireman and has served the Chamber of Commerce as a member of the board of directors.
His worthy goals for Hart County are: to hold the tax base as low as possible; to be certain each individual is treated equally throughout all districts and; to spend tax dollars wisely.
R. C. says he wanted to serve as Commissioner because, "I was born here and lived here all my life. I just want to give something back to my community."