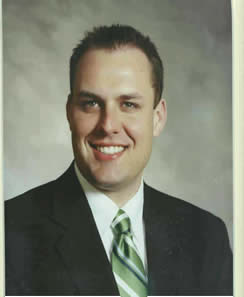 "I'm honored to be serving District 3 as their new county commissioner. While in college I realized that Hart County was where I wanted to live and raise a family. My goal is to leave Hart County better than I found it. To accomplish this I will focus on growing jobs while maintaining exceptional service with conservative spending. I'm dedicated to repersenting Hart County and working for th greater good of all is citizens."
Brandon Johnson was elected on Novemer 4, 2008 and started his first term on January 1, 2009. Brandon became the youngest elected commissioner in Hart County history at the age of 24.
He's a lifelong resident of the Bethany community here in Hart County. Brandon is a 2002 Honor Graduate of Hart County High School and received a Bachelors in Marketing from the University of West Georgia in 2005. He's held both sales and management positions but is currentlry employed by Sanofi-Aventis Pharmaceuticals where he is a sales representative.
Brandon is married to Sarah, who recently gave birth to their first child, Adah Grace in January 09. He's the son of Dalton and Joan Johnson and grandson of Paul and Charlotte Johnson.
He wants to earn the trust of the people by serving them with a high level of integrity and honesty. He's a proponent for open government, less spending, and accountable leadership. Brandon is optimistic about the future of Hart County and believes that it will be a hot spot for new industry and be an attractive community for people to raise a family.