Site Navigation

External Links
About Hart County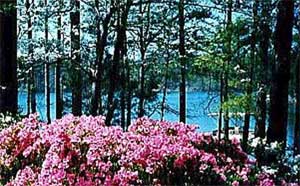 Hart County is located in the I-85 corridor in northeast Georgia. Exit 177 in Hart County is only an hour-and-a-half from Atlanta and a little over an hour from the Greenville/Spartanburg area. With a population of approximately 23,000 it is noted for its exceptional livability and beautiful residential areas which include 222 miles of shoreline on Lake Hartwell, the town of Hartwell with its lovely historic homes and downtown shopping area, and scenic rural districts with gently rolling hills. It has an ideal climate with an average annual temperature of 74°. The average summer temperature is 89°, and the winter average is 57°, with an average rainfall of about 49 inches a year.
Education in Hart County is good with 8 public schools with 244 teachers and 3,497 students. Evening classes for adults is offered at Hart County High School, North Georgia Technical College, and Truett-McConnell College at Cleveland, Colleges and Universities are in commuting distance at: Clemson University at Clemson, SC (43 miles) with 16,876 students, Emmanuel College at Franklin Springs (20 miles) with 850 students, and Athens Technical College and the University of Georgia at Athens (41 miles) with 32,941 students.
Medical facilities in Hart County include:1 hospital (74 beds) with a 24-hour emergency room and intensive care unit, 6 dentists, 17 MDs, 2 nursing homes (209 beds), Public health department, 28 Emergency Medical Technicians, 4 ambulances, 1 quick response vehicle (QVR), 1 mental health/substance abuse center, and 1 personal care home.
Nearby shopping is exceptional. In addition to Downtown Hartwell, a large discount shopping complex in Commerce, Georgia, is only thirty minutes away, and many shopping centers and malls can be reached in less than a half-hour in Anderson, SC. Community theaters are nearby; Hartwell has it own, and there are others nearby in Toccoa, Georgia, and Abbeville and Seneca in South Carolina.
The recreational opportunities in Hart County are outstanding. Lake Hartwell with its many parks, camp sites, marinas and boat ramps can be reached in minutes from virtually any home in Hart County and offers swimming, fishing, camping, cabins, water skiing, and motor boating. Annual events include: Hartwell Antique Boat Festival. Challenge of the Centuries Bicycle Ride. Pre-4th of July Extravaganza. Lake Hartwell Dam Run. Corps of Engineers Interpretive Programs. Hart County Theatrical Productions. Cateechee Golf Course, located on Highway 77 south of Hartwell, is an Audubon Signature Course: only 2 in Georgia; only 15 in U.S and offers gourmet dining at their Waterfall Grille.
Industrial sites are available in Hart County and include Gateway Hi-tech Industrial Park at Exit 177 on I-85. TI Automotive has recently constructed a large facility in Gateway offering 100 employment opportunities to County residents and a thirty million dollars investment. Gateway has eight excellent industrial sites immediately across the Interstate from the Georgia Welcome Center.
History of Hart County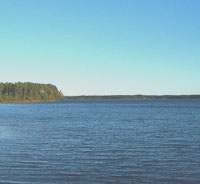 Beautiful Lake Hartwell
In 1853, Hart County was formed by an act of the Georgia Legislature. The next year, it was laid out from territory that formerly was Elbert and Franklin counties. See detail . The Cherokee Indians originally lived on the land in northeast Georgia, including Hart County. Arrowheads, pottery and other relics remain from the days when the Native Americans roamed the virgin forest along the Savannah River. The remnants of villages, burial mounds and artifacts left today show some of the details of their existence here.In an area along Little Coldwater Creek, an old mound was used by the Cherokee for a variety of dances. The Native Americans pleaded with the Great Spirits for blessings to their many endeavors.
One reminder of the Cherokee Indians is an area designated the Center of the World, marked by a historical monument on U.S. 29 about three miles south of Hartwell.The site was a Native American assembly ground where they met for various councils and with traders from Augusta and other southern locations. The Native Americans bartered hides, furs and blankets with the traders. It was reported that their trails radiated from the site to many locations throughout the Cherokee Nation as well as to early settlements.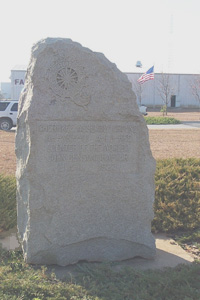 Cherokee Center of the World
Ah-ye-li a-lo-hee
Early settlements in Hart County began during or shortly after the Revolutionary War and were predominately English.
The early settlers of Hart County were mostly farmers or plantation owners. These plantations were developed along the Tugaloo and Savannah rivers and other major creeks in the area not only for irrigation purposes, but also for supply purposes until the railroad reached the county. The growth and development of these farms was supplemented by the advances in the technology of ginning and threshing.The Civil War and abolition of slavery changed the farming operations in the South. Though many slaves remained on farms as hired help, the farms moved away from the rivers. The traditional Southern crop, cotton, reached its peak in 1919, but from the Great Depression on, the crops of the South became more diverse.
Published by the Anderson Independent on July 21, 2002 and edited for this site.
Hart County Facts

County Seat: Hartwell
Population: 22,997 (2000)
Population rank: 70 (out of 159)
Area: 257 sq.mi.
120th in size
Public road mileage: 675
47th State Senatorial District
23rd State House District
11th U.S. Congressional District
Click the image below to view a map of the Colony of Georgia developed by the British about 1770. The Savannah River is shown in great detail, but it is not entirely accurate.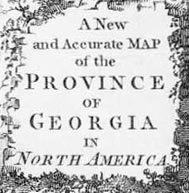 The above map may take up to 120 seconds to load depending on your Internet connection speed. It is a large file with fine detail.
The County provides emergency ambulance service, rural fire protection with volunteer firefighters, waste transfer stations, recycling, private waste collection, recreation program, parks, senior center, library, transit system, county water system. There is a joint city-county development authority, and a joint airport and animal shelter with Franklin County. there is one public hospital and one private landfill.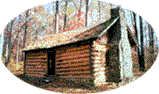 Nancy Hart's Cabin
The Story of Nancy Hart
Hart County was named after Nancy Hart, a local Revolutionary War heroine. It is the only county in Georgia named for a woman. She was born around 1747 Nancy Ann Morgan and later married Benjamin Hart. They obtained a 400-acre grant 25 miles southeast of Hartwell in 1771 and built a log cabin home.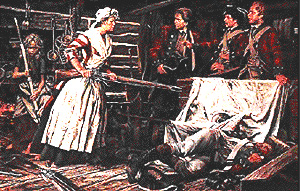 Painting of Nancy Morgan Hart
by Louis S. Glanzman.
National Geographic, October 1975.
A Spy for the Revolution
Legend has it that she served as a spy for General Elijah Clarke, occasionally disguised as a man. The neighboring Indians had great respect for Nancy Hart, calling her "War Woman,"("Wahatchee" in the Cherokee language) and gave that name to a creek adjacent to her cabin, now memorialized as a State Park on State Highway Route 17. Nancy Hart was related to Daniel Boone, and to Colonel John Dooley.
One woman against seven soldiers
While there are many stories about Nancy Hart fighting and killing enemies (called Tories at the time), the most famous story about Nancy Hart occurred during the Revolutionary War when seven British soldiers arrived at her cabin near Wahatchie Creek. Her normal hostility toward the British was replaced that day by a cordial manner, and she offered the soldiers a meal. Meanwhile she sent her daughter to the spring for water, but slipping her a conch shell to blow, a signal summoning help. The British soldiers began to drink, while Nancy kept an eye on them and their muskets that were carelessly stacked in the corner.
Nancy managed to sneak two of the muskets into a space in the wall before she was noticed trying to sneak the remainder. One of the soldiers rushed at her but she was an expert marksman and dropped him to the floor. Another soldier followed and was injured by Nancy's excellent shot. The rest of the soldiers pulled back. Nancy stood over six feet tall and had flaming red hair; she must have been an intimidating sight to the soldiers. When Benjamin and his friends arrived at the cabin, Nancy had the five enemy soldiers and the situation under control.
The soldiers were hanged from an old oak tree and buried on the Harts' farm. The grave was unearthed by a work crew when building the railroad, verifying the history which had been considered by many to be mere legend.
Other stories which cannot be verified with documents but are believed to be true include the following:
The Georgia Whigs used Nancy as a spy several times. One time she dressed as a man and entered the British camp, pretending to be crazy, and was able to come away with vital information on the British troop movements.
Another time the Georgia Whigs badly needed information about what was going on the Carolina side of the Savannah River. As there were no volunteers for the mission, Nancy tied a few logs together with grapevines, crossed the river and obtained the needed information.

A representation of Nancy Hart may be seen on the Hart County Seal. The Seal was designed by Robert W.Knowles and adopted as the official seal on May 8, 1990.
Nancy Hart Links:
http://smithdray.tripod.com/history/nancyhart.htm
http://www.gawomen.org/honorees/long/hartn_long.htm
The Hart County Courthouse burned in 1967.
Click here to view enlarged version.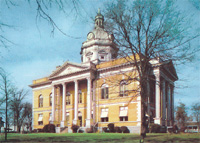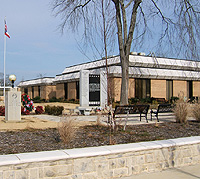 The Hart County Courthouse was built in 1967 after the former Courthouse burned


Links: