Site Navigation

External Links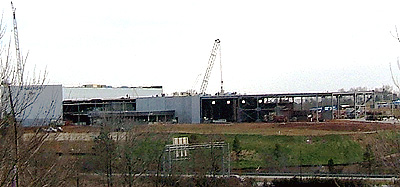 TI Automotive construction site as of February 1, 2005
as seen from Welcome Center on I-85
Gateway Industrial Park
www.hartiba.com
Gateway I-85 Project Update
Jon Caime, Hart County Administrator
November 17, 2004
A year ago I wrote that "great change will be taking place in the Northern part of Hart County". Well, that change is already here. We now have complete utilities and roadways installed on our 150 acre industrial park and the entire infrastructure needed for industrial development on one of the best industrial sites on the I-85 corridor.
We also now have a 500,000 gallon water tank at our property on the interstate and a 7-mile, 12 inch water line from the I-85 area along State highway 77 south. We have also installed almost 1 mile of new sewer line so that we will have ample sewer capacity for the industrial park and expected growth outside the park including expected commercial developments on the first interstate 85 exit in Georgia from South Carolina.
A good portion of this multi-million dollar work was completed using State and Federal grant funds. The remaining money came from the 1 cent SPLOST sales tax. This spring we will pave the roads inside the park using a GADOT grant and SPLOST funds.
Before we placed the "for sale" sign out front, we have already located the largest new industry in Hart County in four decades. An approximate 150,000 square foot building is now rising from the ground to house TI Automotive, a high tech manufacturer that will hire approximately 100 new employees to start with beginning in 2005.
We will continue to market the remaining property to high tech companies in an effort to support the Hart County Board of Commissioners goal of providing good jobs for the Citizens of Hart County.
Jon Caime
Hart County Administrator
pwdirector_at_hartcom.net
www.hartcountyga.gov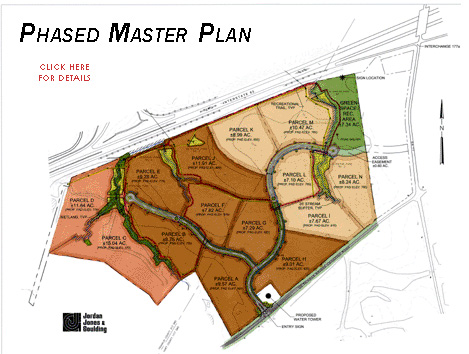 Phase 1a | Map of General Area | Master Grading Plan
Located in the southeast's fastest growing industrial corridor between Atlanta and Charlotte is the Gateway Industrial Park. The one hundred and fifty acres of prime industrial land is conveniently located adjacent to Interstate 85 at the interchange of Georgia Hwy 77 (exit 177) just south of Lake Hartwell. The Park is situated two hours from Charlotte and Atlanta and one hour from Greenville-Spartanburg.
This full service industrial park is available to high-tech companies that recognize the importance of being close to their southeast market without being in the metropolitan areas.
The Gateway Industrial Park is a collaborative project of the Hart, Franklin and Stephens Joint Development Authority. They have joined together to offer the perfect combination of industrial location and quality of lifeI-85 Project Update
Grading Plan Gateway Industrial Park Gateway Park Area Map Demographics Aerial Photo